Print Delivery
Your order will be delivered by one of our courier partners who have an on-time performance of 99%. Your order will arrive in blank packaging (only labelled with a title and quantity per box). 5 days a week (Monday-Friday). If you would like your order to be delivered on a weekend or to more than one place please get in touch.
Design Online or Print Your File
We can deliver all across mainland UK online so your order can be delivered to your home address, your business or any other address you'd like. Your order will be delivered in blank packaging by one of our courier partners whom publish an on-time performance of 99%.
Remember: Couriers require a signature for proof of delivery also so we can track delivery so please supply an address where there will be someone to receive your print job. If you need anymore answers check out our FAQ's.
Delivery Service Levels
| | |
| --- | --- |
| Stand By | 7 Working Days |
| Normal | 4 Working Days |
| Xpress | 3 Working Days |
| Next Day | 2 Working Days* |
* - dispatched within 24 hours
You can also choose:
Standard Delivery
Premium Delivery Before Noon
Premium Delivery Before 10am
Delivery Promise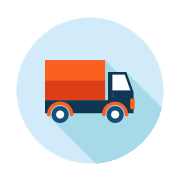 We show you the delivery price of the item once you have added it to your basket. The price of our delivery depends on the total weight and the turnaround option you've chosen. The delivery price is automatically calculated so if you order 2 or more jobs, we may despatch each as soon as possible but we'll only charge you once for delivery. So the more you order the cheaper it gets. Saving you money.
In the unlikely event that we fail to despatch on time, read about our Delivery Promise.
If you'd like your order delivered to multiple addresses, please get in touch so we can send you a free no obligation quote.